Yachting Special Events
birthdays, weddings, vow renewals, rehearsal dinners, bachelor & bachelorette parties, anniversaries, sushi cooking class, or design your own event!
LDM is Here to Help!
Our relationship-based team has vetted the best yacht experiences in the Los Cabos area to suit all of your needs. Whether you're looking for an all-inclusive yacht experience or just a half-day out on the water, our team will help match you with the best fit. Feel free to fill out the form below to help us customize your once-in-a-lifetime trip!
Featured Yachts of the Month: Blue Moon Los Cabos!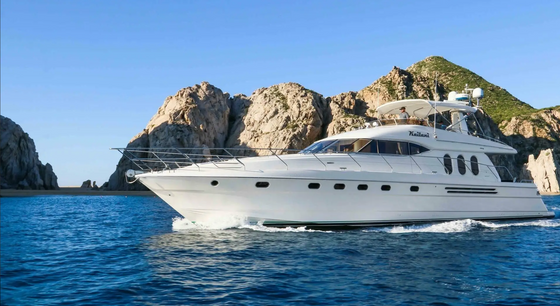 The Kailani offers guests a luxury experience with plenty of space and outstanding service. Featuring 3 Bedrooms with 1 King, 1 Queen and 1 Twin, this yacht is perfect for fun day trip exploring Los Cabos or a family multi day trip up the beautiful coast of Baja California Sur.
Awesome crew and affordable luxury. The 70 Ft Kailani has everything needed for an amazing day of cruising. This yacht features a nice second deck and big bow for sunbathing and relaxing. Food and drinks prepared on board will delight your guests and give you the luxury experience you hope for in a Cabo San Lucas yacht charter.
more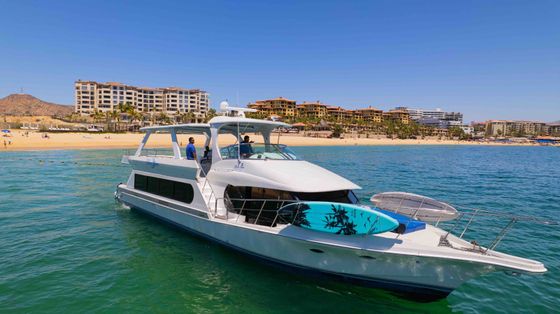 Join us on the beautiful 74' Bluewater Coastal Cruiser, Blue Moon Los Cabos! Whether you're planning for a wedding or bachelor/ette party, a romantic getaway sunset cruise, birthday, anniversary, sushi chef cooking class, fishing tour, or a snorkeling adventure with friends, the Blue Moon has it all!
Each charter comes with...
BOTTOMLESS DRINKS

Wine, beers, tequila shots, soft & mixed drinks

BEST SOUND SYSTEM on Cabo water (your music or ours!)
QUIET separate area
DANCE FLOOR for 45 people
2 BEDROOMS and 2 BATHROOMS on board
WiFi ONBOARD!

Share your trip LIVE with family and friends!

COMFY snorkeling masks
HOMEMADE GUACAMOLE & CEVICHE every trip

(Lunch on 3+ hour trips.)

CHEF on all FISHING trips
Contact us today to co-create the adventure of a lifetime!!
more
Bachelor/Bachelorette Festivities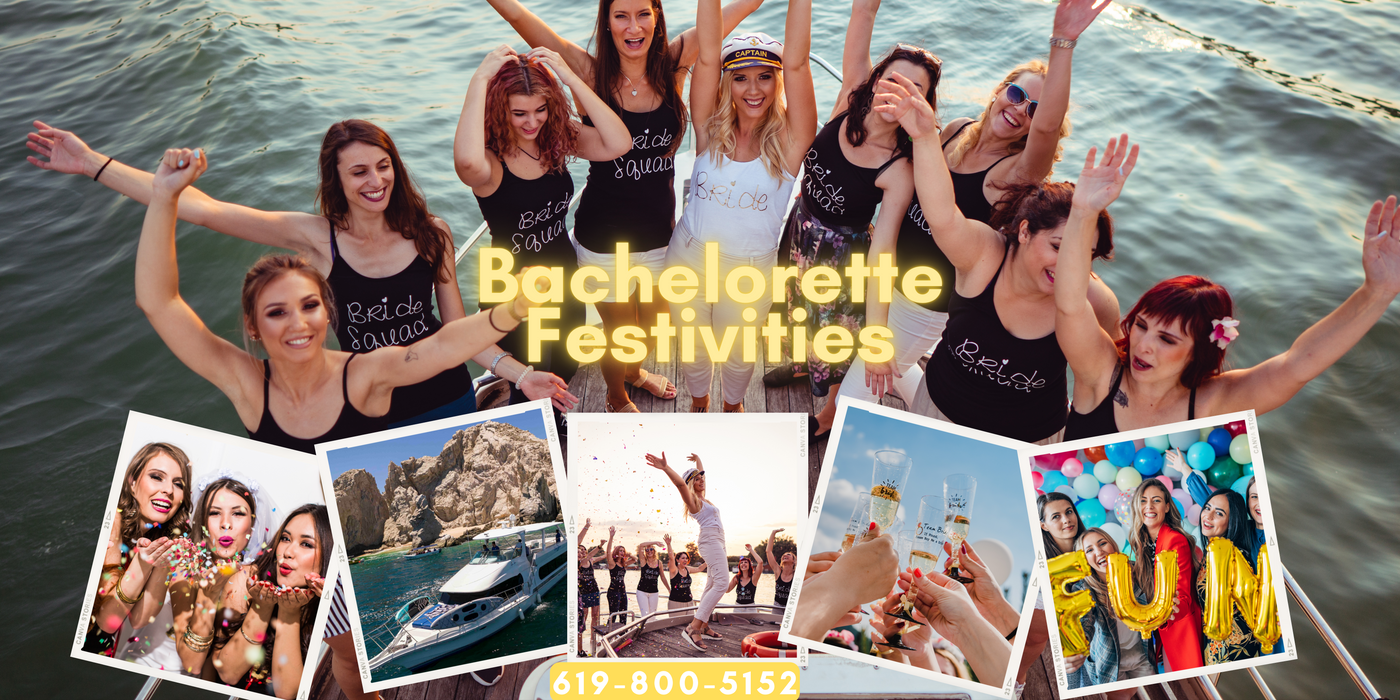 Yachting in Cabo San Lucas
Yachting in Cabo San Lucas can be an incredible experience. Cabo San Lucas, located on the southern tip of the Baja California Peninsula in Mexico, is renowned for its stunning natural beauty, crystal-clear waters, and vibrant marine life. Here's some information to help you plan your yachting adventure in Cabo San Lucas:
Yacht Rental: There are several companies in Cabo San Lucas that offer yacht rentals. You can choose from a variety of yacht sizes and types, including luxury yachts, sailing yachts, and catamarans. It's advisable to book your yacht in advance, especially during peak tourist seasons.

Charter Duration: Yacht charters can be tailored to your preferences. You can opt for a half-day charter (4-5 hours), a full-day charter (8-10 hours), or even multi-day charters if you wish to explore more of the region.

Yacht Activities: While yachting in Cabo San Lucas, you can engage in various activities, such as:

Snorkeling: The waters around Cabo San Lucas are teeming with marine life, making it an excellent spot for snorkeling. Explore the famous landmarks like the Arch of Cabo San Lucas and the vibrant underwater world.

Scuba Diving: If you're a certified diver, consider diving in the Sea of Cortez or the Pacific Ocean. You'll encounter colorful coral reefs, impressive rock formations, and an abundance of marine species.

Whale Watching: Depending on the time of year, you may have the opportunity to witness the incredible sight of migrating whales. Humpback and gray whales are known to pass through the area during their seasonal migrations.

Fishing: Cabo San Lucas is known as one of the best fishing destinations in the world. You can try your luck at catching marlin, dorado, tuna, and other game fish. Many yachts come equipped with fishing gear and experienced crew members.

Landmarks and Beaches: While yachting, you can enjoy breathtaking views of the famous Arch of Cabo San Lucas, Lover's Beach, and Land's End. You can also anchor near beautiful beaches like Medano Beach or Chileno Bay, where you can swim, sunbathe, and relax.

Safety: Ensure that the yacht rental company you choose prioritizes safety. Confirm that the yacht has all necessary safety equipment, and the crew is experienced and trained in emergency procedures.

Weather and Seasons: Cabo San Lucas enjoys warm weather year-round, with the peak tourist season occurring from November to April. However, weather conditions may vary, so it's advisable to check the local forecast before your trip.
Remember to respect the marine environment and follow any regulations in place to preserve the natural beauty of the area. Enjoy your yachting adventure in Cabo San Lucas!
Let's Do Mexico can arrange customized private charters to accommodate all of your needs. Whether you're looking for a relaxing half day charter or are looking for a full day sportfishing adventure, our team will help pair you with the best vessel that suits all of your needs. All you need to do is let us know what you're interested in doing, and we can match you up with the right vessel and captain. Remember, all charters require advanced notice.
The prices of yachts vary depending on how many passengers and the type/size of vessel you desire. All boats launch out of the Cabo San Lucas Marina or San Jose Puerto Los Cabos Marina.
Complete this form email us at letsdomexico1@gmail.com or give us a call at (619) 800-5152 to receive more information.
Due to the uncertainty of Covid, we HIGHLY recommend purchasing travel insurance.

5-Star Reviews
I don't know if my family will ever stay anywhere else in San Jose ever again! The team at Let's Do Mexico are beyond hospitable and accommodating. The apartment is in excellent shape, super clean, and you can't get a better view. Location is perfect. Not to mention the on call help with recommendations for everything you could ever need a recommendation for! Zach, Kylie, and Ricky are the three musketeers of San Jose - here to make your vacation dreams come true! 😂 Seriously though, can't say enough how well taken care of we were. Ricky came at the drop of a hat multiple times to help us with a few things and was just the most helpful and joyful human. Kylie recommended a charter service that we ended up booking and spent the day on a yacht sailing around La Paz and it was the best part of our trip! 10\10 slam dunk, team. Thank you so much you guys! We will back. (probably really soon) -Chloe Seppala