Your Safety is Our #1 Priority
At Let's Do Mexico, we continue to closely monitor updates regarding COVID-19, taking direction from both local health departments and national agencies in order to keep employees, guests, and homeowners safe.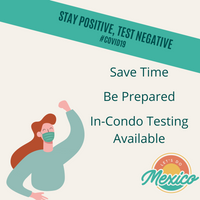 Latest Covid-19 Announcement
United States: As of Sunday, June 12, 2022 travelers flying to the U.S. will no longer need a negative COVID-19 test one day before their flight to the country.
Canada: The Government of Canada announced that effective April 1, 2022 at 12:01 AM EDT, fully vaccinated travellers will no longer need to provide a pre-entry COVID-19 test result to enter Canada by air, land or water. All unvaccinated and foreign travelers are still banned entry at this time.
Please visit www.visitloscabos/travel/covid19 or consult the CDC website for the most up-to-date information. 
· Visit the COVID-19 crisis page on travel.state.gov for country-specific information related to COVID-19. 
· Check with your airlines, cruise lines, or travel operators regarding any updated information about your travel plans and/or restrictions, including potential COVID vaccine or testing requirements for countries you are transiting through.
· Visit the U.S. Embassy Mexico webpage on COVID-19 for information on conditions in Mexico.
*Disclaimer: we cannot guarantee the accuracy of this information as it's an ever changing situation. Please reference the links provided above for the most up-to-date information.
In-Condo Testing Available
In-Condo Covid tests are available for $50/person/test at Las Olas. Contact the LDM Team to help you set up your appointment. Other options for getting tested are Saint Luke's +52 624-142-5911 (400pesos/test [$20]), Hospiten San Jose del Cabo +52 624-105-8550 or the SJD Airport.

5-Star Reviews
I don't know if my family will ever stay anywhere else in San Jose ever again! The team at Let's Do Mexico are beyond hospitable and accommodating. The apartment is in excellent shape, super clean, and you can't get a better view. Location is perfect. Not to mention the on call help with recommendations for everything you could ever need a recommendation for! Zach, Kylie, and Ricky are the three musketeers of San Jose - here to make your vacation dreams come true! 😂 Seriously though, can't say enough how well taken care of we were. Ricky came at the drop of a hat multiple times to help us with a few things and was just the most helpful and joyful human. Kylie recommended a charter service that we ended up booking and spent the day on a yacht sailing around La Paz and it was the best part of our trip! 10\10 slam dunk, team. Thank you so much you guys! We will back. (probably really soon) -Chloe Seppala
Due to the uncertainty of Covid, we HIGHLY recommend purchasing travel insurance.